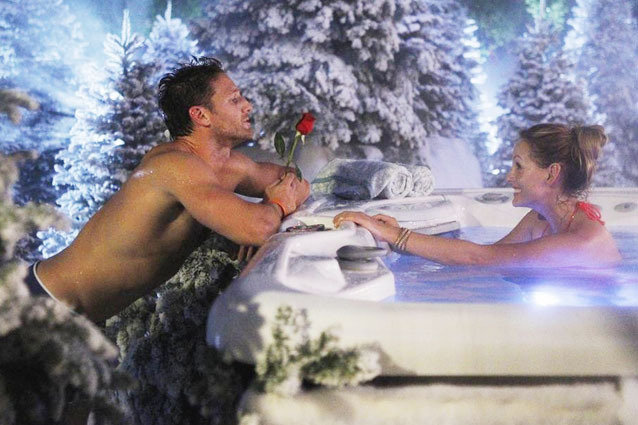 ABC Television Network
Even before The Bachelor began its 18th season, the show's new star Juan Pablo Galavis made headlines for all the wrong reasons. Prior to the premiere of The Bachelor, Galavis said he didn't believe gays should appear on the show. He has apologized for the comment, both to the LGBT community as well as GLAAD, and recently stated he couldn't be homophobic because his cousin is gay. (Uh, that's not exactly how that works.)
However, since the show has begun, Galavis has proved he's not quite the gentleman that viewers expect from The Bachelor. He often uses his daughter as an excuse to send women home for acting "un-ladylike" or setting a poor example. While his daughter's well being is ostensibly a good motivating factor, it was hypocritical when he told Renee he didn't want his daughter to see him kissing so many women right before he turned around to swap spit with Nikki, Sharleen, and Clare. C'mon dude. Now you're just lying, and using your own child as a tool to do so.
The major event of the season that riled many viewers was how Galavis treated Clare after their midnight rendezvous in the ocean. When he told Clare a few days later — on camera — that he regretted the decision to meet her (and do whatever they did off camera), he seemed to blame her for manipulating him into the tryst. Unless I'm recalling high school sex ed class incorrectly, I'm pretty sure it takes two to tango.
But, as if Galavis couldn't act any more like an uncivilized jerk, recent headlines detail his latest offscreen escapade: reportedly, Galavis sent a picture of himself fully nude to the lucky (if that's really the word for it) lady he picked on The Bachelor — though we don't know the winner yet, Galavis made his decision back in November. Galavis has officially hit an Anthony Weiner low. Yikes.
Although there have been some hated contestants on The Bachelor before — Jake Pavelka and Brad Womack to name a few — Galavis seems to be more despised than anyone else. While others have been able to redeem themselves, it seems unlikely that Galavis will be able to win back the public's favor. He really is the worst Bachelor ever. Let's hope The Bachelor doesn't suffer.