Spritz on some perfume and get to work, because the wait for Britney Spears' new album is over! Sure, it isn't technically released until next week, but the pop superstar announced via her Instagram account that her eighth studio album,
Britney Jean
, will be available to stream for free on iTunes all week... just in time for your long, holiday car ride. But, in order to appreciate the new album, and the Spears of today, we must first pay homage to the superstar of yesteryear, by celebrating the streaming of
Britney Jean
with a Week of Britney.
We've come up with a week's worth of Spears-themed activities that celebrate all of the great eras of her career, all week long, so that you're prepared for the album's release on December 3.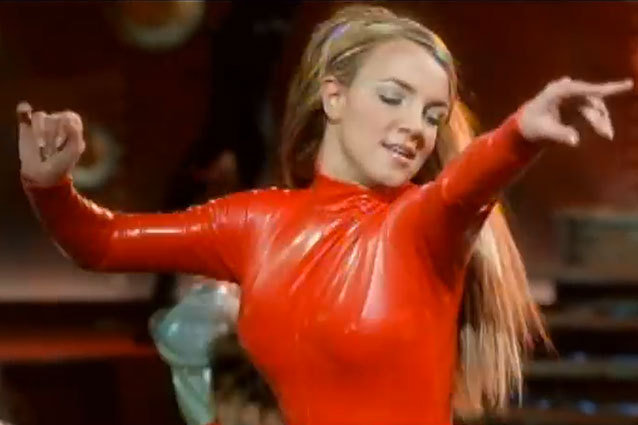 Day One: ...Baby One More Time
In order to best capture the spirit of Spears' debut album, you'll need to ensure that your wardrobe consists primarily of crop tops and baggy cargo pants, perfect for dancing on boardwalks or basketball courts. If you're a truly dedicated fan, go all out with a replica of the schoolgirl outfit work by Spears in the "Baby One More Time" video, although clunky, square heeled shoes and pink hair pom poms are required for accuracy. Spend your morning on the beach, staring emotionally out towards the ocean, and dancing underneath the boardwalk, before treating your friends to milkshakes that you deliver on roller blades. Make sure to chew plenty of bubble gum during the day, so that people understand that you're trying to physically embody the idea of bubble gum pop. End your day with a double billing of
Drive Me Crazy
and Spears' episode of
Sabrina the Teenage Witch
.
Day Two: Oops! I Did It Again
The wardrobe for day two is a bit more complicated, as there is really only one outfit that sums up Spear's second album: the red leather catsuit from her "Oops! I Did It Again" music video. If you've got some spare time on your hands, give sewing your own custom catsuit a try. But if you need to buy one, ensure that it includes both a mock turtleneck and another pair of awkward, clunky shoes. After you've finished rescuing the Hope Diamond from the depths of the ocean, spend your afternoon learning the chair choreography from the "Stronger" video. If your family has arrived early for Thanksgiving, perform it for them wearing a nude-colored, sequined two-piece outfit like the one Spears wore for her 2011
VMAs
performance. Finally, wind down by perching atop the highest balcony in your home, wearing your favorite pink ballgown over some jeans (to give it a casual twist), and sprinkle glitter down onto the people below.
Day Three: Britney
You've grown up some now, so it's time to showcase your new-found adulthood with plenty of ripped jeans, strategically unbuttoned white shirts, and smoky eye makeup that you forgot to take off three days ago. Most of your day will be spent dancing in dingy warehouses or opulent penthouses, although you will finally be able to wear more stylish shoes. To ensure that your performances are as accurate as possible, borrow a yellow boa constrictor to wear around your neck. Around sunset, find a nice, quiet spot in the desert to contemplate the fact that although you're no longer a girl, you're not yet a woman. Make sure that your jeans are as torn up about the situation as you are. Finally, finish off the evening with a re-watch of the cinematic masterpiece that is
Crossroads
, and re-enact the pivotal karaoke scene with your friends. If you've spent the last few days dating the most famous member of a boy band, now if the time to break things off and explore your independence.
Day Four: In The Zone
Today will involve several costume changes, in order to properly reflect the growth and change that Spears underwent during this time in her life. If you are flying somewhere for the holidays, choose the most attractive person on your flight, and using your dance moves, seduce them into revealing themselves as some sort of spy. If you're travelling on land, why not rent a motorcycle? Use the weird scarves tied to your arm to lure a handsome stranger into riding with you through the city at night. Once you've arrived at your destination, change into an oversized white button-down and a baseball cap, and make your way through the throngs of paparazzi into your bathroom to take a long, relaxing bath and reflect on the end of your relationship with that boybander. When you're done, change into some denim shorts and Ugg boots, and then unwind with several bags of Cheetos and a few episodes of
Britney and Kevin: Chaotic
. If you can, try and find a backup dancer of your own to marry.
Day Five:
Blackout
After you start of the day with a weird, mumbling, awkward rendition of "Gimme More," divorce the backup dancer you married yesterday and accessorize all of your outfits with a bobbed, hot pink wig. Although you'll continue to give the people around you music to dance to, spend the day relaxing and recovering from the stresses of following in Spears' footsteps. Finally, when you're ready, end the night by collecting an armful of
VMA
moon men and begin launching your first of several comebacks.
Day Six: Circus
Most of your day will consist of performing, so if you could find a way to build your own personal three-ring circus to use as a stage, that would be ideal. If not, why not try causing chaos in your office by singing to one of your co-workers about him being a "womanizer"? Or, instead, get into the Thanksgiving spirit by donning your best '50s housewife ensemble and baking a pie, before reverting back to your flamboyant stage outfits? When all of your work is done, enjoy spending plenty of quality time with your family before capping off the evening with Spears'
Glee
tribute episodes. Feel free to take inspiration from the characters and recreate as many iconic Spears moments as you can, preferably in that miniature circus you built earlier.
Day Seven: Femme Fatale
Since the week is winding down, it's time to have a dance party with Spears' album
Femme Fatale
. For your wardrobe, stick with with black and white, and make liberal use of accessories like elbow length-gloves and a giant, feathery vest. Make sure to decorate your room with all of the gold and platinum records you've sold in order to provide the ideal backdrop for dancing until the world (or just the night) ends. After you're done dancing, find yourself a comfortable seat, and have your friends and family sing for you, while you judge them on whether or no they've got the X Factor. Recruit your annoyingly self-absorbed cousin to sit next to you and talk in a British accent. Cap off your evening by watching
The Smurfs 2
with some of the younger members of your family, and relax before it's time to get back to work, b**ch.
Once you've completed your Week of Britney, you're all ready to buy
Britney Jean
when it's released on December 3.