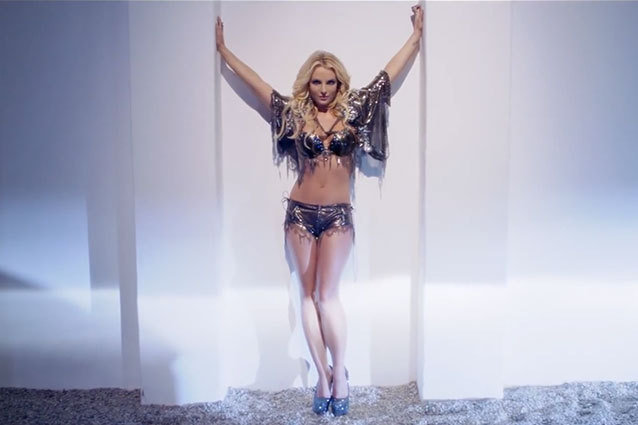 BritneySpearsVEVO/YouTube
With
Britney Spears
set to release her eighth studio album,
Britney Jean
, this week, here's a countdown of her previous seven studio albums from worst to best.
http://www.youtube.com/watch?v=rMqayQ-U74s
7. Circus
2008's
Circus
showed glimpses of the pop princess we all knew she could be ("Womanizer"). But it lacked both the edginess and element of surprise of its predecessor, while its factory line production also ensured it suffered from a distinct lack of identity.
6. Oops ... I Did It Again
The anthemic title track and the under-rated "Stronger" aside, Britney's second album was a fairly pedestrian affair which suggested that the era's superstar producer Max Martin had run out of ideas. The cloying self-penned "Dear Diary" is also one of the worst things she's put her name to.
5. Femme Fatale
One of the first mainstream pop artists to embrace dubstep on lead single "Hold It Against Me," Spears unexpectedly became something of a pioneer on 2011's
Femme Fatale.
The rest of the material didn't quite manage the same invention, but its hedonistic sound showed that Britney could still keep up with her younger peers.
4. Baby ... One More Time
The iconic title track is worth the price alone but there's plenty more to enjoy on this unashamedly sugary debut, whether it's the charming teen-pop balladry of "Sometimes," the playful cover of "The Beat Goes On" or the surprisingly mature "Born To Make You Happy.">
Home to the standout track of her career, "I'm A Slave 4 U," 2001's eponymous coming-of-age album proved that Britney had what it took to make that leap into grown-up pop by tackling everything from Dido-penned power ballads to Neptunes-produced seductive R&B.
2. In The Zone
The duet with Madonna might have failed to live up to expectations, but the rest of 2003's
In The Zone
briefly indicated that Spears was on the verge of stealing her Queen of Pop crown. Featuring both her sexiest ("Breathe On Me") and most fragile ("Everytime") songs, it's also her most personal statement yet.
1. Blackout

But Spears' best record is the one which she probably had the least input in. Recorded and promoted in the midst of a very public breakdown,
Blackout
might be the only Britney album not to reach number one in the U.S., but she's never bettered its state-of-the-art dance-pop sound.