Marc Cartwright
Vanessa Marano, Teen Choice Award Nominee and star of
Switched at Birth
gives us a look into the life of Bay Kennish, her relationship with her sisters, both on and off the screen, and what's next for this talented actress.
Can you give us a little insight into Bay Kennish? Do you relate to Bay in any way?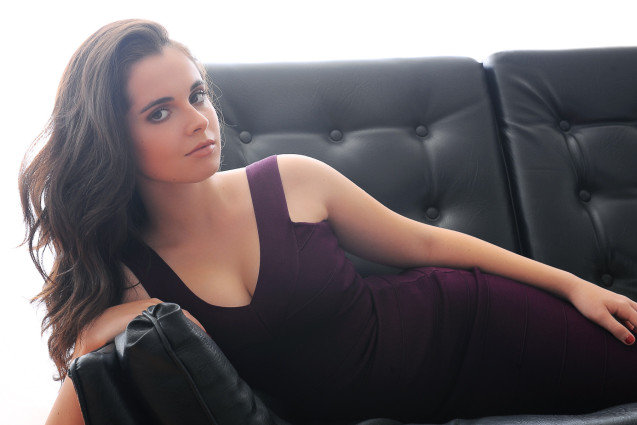 Bay is an artist and extremely vulnerable. She's honest about her feelings. What you see is what you get with Bay. My favorite thing about her is that she's constantly growing as a person. I think we can all relate to not being perfect. I personally relate the most to her humor. As negative as things can get, her energy is humorous in the face of it all.
You have been nominated a few times for your portrayal of Bay. How does it feel to know you are a part of such a meaningful show?
It's fantastic! I love what I do and the people I work with. It's always nice to be a part of something that people enjoy, but it has been an incredible experience to also be a part of something that has meant so much to a community. The deaf community has embraced us so graciously, and we feel just as thankful to have them supporting us.
Do you and your 'sister' Katie Leclerc have a fun time filming together? Can you give us any funny/quirky stories of being on set together?
I love that girl so much. We just giggle constantly. We did one episode where there was a dream sequence of me being Daphne and Katie being Bay. We wore the outfits to the table read for the next episode, and the poor director was so confused.
How did you get involved with Christopher Reeve Foundation and Global Green? Why do these charities speak to you?
I worked with Christopher Reeve when I was eleven years old on a film titled "The Brooke Ellison." I had always been a supporter of the foundation, but I really started getting involved a few years back. We're so close to finding a cure for spinal cord injuries and who knows how many doors that cure could open for people suffering from other life altering alignments. There's an episode of
Switched at Birth
this season featuring a paralyzed character. I'm very proud that the show is taking steps to spread awareness. As far as Global Green goes, we only have one planet, and we need to treat it right.
Your sister Laura Marano is the lead on 'Austin & Ally.' Do the two of you help each other run lines during your off time? Is there a healthy competition between you two?
Well, my mom's an acting coach so Laura and I grew up running lines. It's great having a sister in the business, I think it made us made our relationship very strong. She's my best friend.
What can you tell us about your upcoming film, 'Senior Project?'
Senior Project
is about a group of very different teenagers who are forced to work together on the final project of the year. Anybody who has gone through those incredibly stressful last few months of high school will relate to this film.
Fun Facts- What languages are you fluent in?
Well, thanks to
Switched at Birth
, I'm now pretty proficient in American Sign Language. I speak Italian as well, but I'm a bit out of practice with that one.
Any special plans for the holidays?
Lots of sleep, lots of food, and lots of family. Maybe some tv thrown in there too.