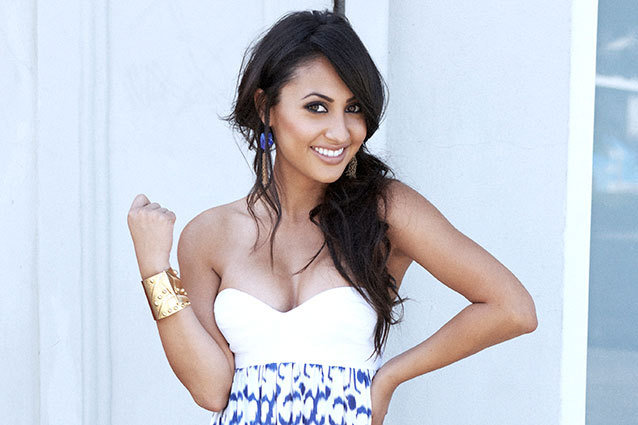 Michael Barr
Teen Choice, IMAGEN and ALMA award-nominated actress Francia Raisa chats with us about her TV movie Christmas Bounty, what comes after The Secret Life of the American Teenager, her passion for dancing and doing her own stunts.
Can you tell us a little about Christmas Bounty? What can we expect in this holiday flick?
The movie is about my character, Tori, trying to find herself. She grows up in the family business, bounty hunting, but feels there is more to her than that. She packs her bags and moves to New York to start a new life and basically creates a new identity. She becomes a teacher, meets a guy and falls in love. The night of her boyfriend's family Christmas party she gets a phone call from Manucci, a guy she put away a few years prior, and he threatens to come after her and her family. That call forces her to go back to her roots and revisit the life she thought she left behind. You can expect a lot of action, laughter, love, and heartbreak. It's a fun movie and I think families will enjoy it.
Was it fun portraying an ex-bounty hunter? Will we see you doing any of your stunt work?
So much fun and yes! I do all of my own stunts except for one. In the beginning of the movie you see me jump off a building to the top of an SUV— that is not me. I let my amazing stunt double do that! But everything after that is me. Even the landing and rolling off the car is me and all the fight scenes are also me.
We see you just went to an 'Unlikely Heroes' charity event. How did you get into supporting this cause and why does it resonate with you?
My friend Jordan brought me as his date to one of their events last year. I went in not knowing anything about it. I listened to some of the survivors' stories and it really touched my heart. Being a woman and an older sister it made me sick to think of these girls being taken advantage of the way they are. Knowing my position in the spotlight I knew I could help make a difference and be a voice for these girls that have no way of speaking out for themselves. I wanted in a way to be the older sister they had that was trying to protect and save them.
Now that The Secret Life of the American Teenager is over, will we be seeing more of you on the big screen?
I hope so. I have yet to do a film for the big screen. I'm waiting for the perfect project to do my debut but for now you will continue seeing me on the small screen. I have been working on some incredible projects that I'm very proud of and meeting some great people. I love tv.
Do you feel you incorporate dancing into your acting career or vice versa?
When you dance depending on the music and story you're telling, you come up with a character. You definitely add acting to dancing. You want to make the audience feel not just with your moves but your energy. I definitely become a different person when I dance. I haven't named her but she's a character.
Any big plans for Thanksgiving and Christmas?
I'll be flying back home just in time for thanksgiving. I'm cooking and hardly have any prep time so nothing crazy, but I'm hoping I make a good meal for my family. We'll probably watch
Christmas Bounty
after dinner because I can make them watch my movies and I love that one! And I will make everyone watch
Christmas Bounty
again on Christma