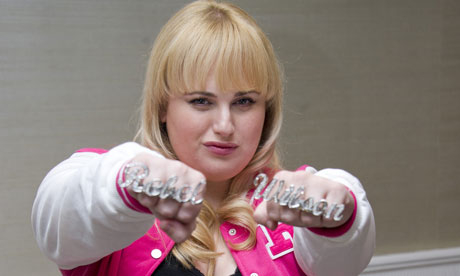 We can't believe the Pop Culture God That Lives In The Sky is making us choose, but after watching this parody video of
Rebel Wilson
pretending to be
Jennifer Lawrence
's jealous twin sister, we don't know which we'd rather be major BFFs with.
Like, if there was only room for one more set of legs for some hypothetical
Sisterhood of the Traveling Pants
jean-sharing situation, we don't know who we'd mail this pair of denim to.
"No, I'm not jealous of her, not one bit," Rebel says as Katharine Lawrence, the identical twin sis she portrays in a mock video of
True Life: My Sister's Famous
that was criminally cut from the MTV Movie Awards telecast.
In Katharine's retroactive mind, Jennifer actually gets most of her movie inspiration from Katharine. Jennifer supposedly saw a photo Katharine took of a snowman with a carrot for a boner and before you knew it Jennifer was getting nominated for
Winter's Bone
. Bet you didn't see that on the bonus features of the DVD, huh?
Watch the axed sketch in full here: