Porsha opens up to HollywoodLife.com about the end of her marriage, her friendship with Kenya Moore and the possibility of leaving 'The Real Housewives of Atlanta.'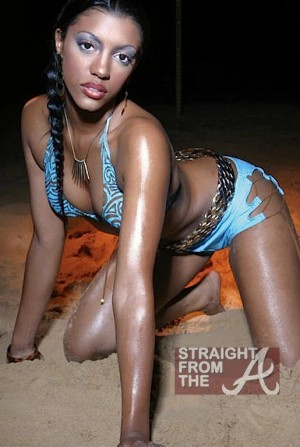 Porsha Stewart
has been put through the ringer during the past year — she barely survived her first season on
The Real Housewives of Atlanta
, only to be blindsided by a divorce from husband
Kordell Stewart
— and we've watched every minute of it play out in our living rooms. In a new interview with
HollywoodLife.com
, Porsha said she's "at peace" with everything that's happened, but also acknowledged her greatest struggles are still ahead.
Porsha Stewart's Divorce From Kordell: What's Next?
"It's been turned upside down," Porsha told us of her current
relationship with Kordell. "At the reunion [filmed shortly before Kordell filed for divorce], I was a wife defending my husband, as any wife would. And now, we're on totally separate sides of things."
As for sharing a roof with her soon-to-be-ex — yes, Porsha is still living with Kordell — she told us it's just as difficult as we'd imagine.
"It's awkward, of course," she admitted. "You pass by each other, and it's a little awkward and uncomfortable. But the process has just begun, and I'll get out of this phase pretty soon."
Will Porsha Stewart Return To 'RHOA' Next Season?
With everything that happened during Porsha's first season as an official
Real Housewives
cast member, we had to ask whether or not she'd consider returning for round two.
"It's a possibility," she told us. "This last season was for me was bittersweet. I gained some great girlfriends, but some other situations fell apart for me. It's something I'm considering, I just haven't decided yet."
And if she
does
decide to return, you can bet you'll see her enjoying more good times with
NeNe Leakes
and
Phaedra Parks
.
"NeNe and Phaedra have just been amazing to me," she told us. "After they heard about the situation, everybody reached out. I was thankful for that."
She might even get along with on-screen rival
Kenya Moore
, or at the very least be civil with her.
"We don't talk," Porsha told us of Kenya. "She did send me a text message, sending her prayers and saying how sorry she is for the situation I'm going through — and that's about it for that. I'm thankful for her support."