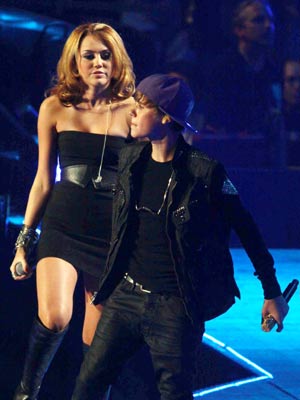 Drake Bell
, a former Nickelodeon star who now appears on the diving show, "Splash," so a real A-Lister here you guys, has been throwing hate tweets at Justin Bieber all weekend for no real reason, including playing a game of "
Justin Bieber
or
Miley Cyrus
?"
Yes, the goal of the game is to look at a photo and decide if it is in fact Miley or Justin. Mean-spirited? Sure. Funny? Ahh h*ll yeah!
Drake
posted a photo
of Bieber's face and we have to admit, the hair is a little Miley-ish.
Drake eventually realized that playing "Miley or Bieber" is actually really mean and deleted the tweet. Though he didn't delete any of the other tweets where he makes fun of Bieber's height, his glossy lips, or the fact that Bieber sometimes wears mascara.
Does Drake not remember that he himself used to be a child star and now he jumps into swimming pools for a living? Who is he to talk?
That being said, we must ask…do you think Miley Cyrus and Justin Bieber look similar? Take a look at this photo of the two of them and don't act like Drake doesn't make a valid point…