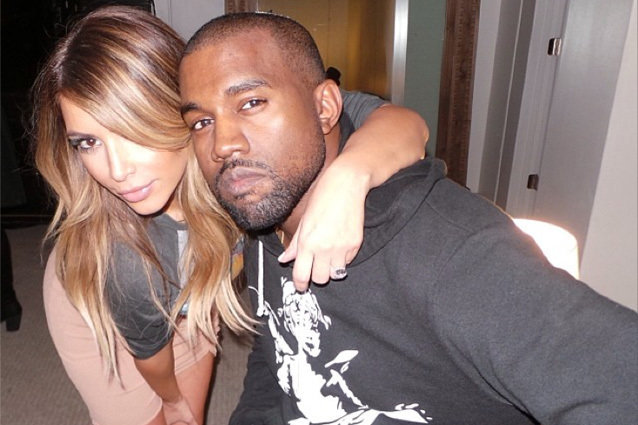 kimkardashian/Instagram
Where would your life be without
Kanye West's
many varied lyrical homages to his fiancée
Kim Kardashian
? Trust us — your life would not be the same. Over the years, even before we knew that they were dating, Kanye has been putting his love for Kim on wax, which is a bold move in the rap game. We don't have a lot of rappers embracing the wonderful world of monogamy, and even if you're not into the couple (or the two individually) you have to admit that it's always sweet when a guy publicly declares his love for his significant other. Here are a few of Kanye's best lyrical references to Nori's momma Kim.
"Cold/Theraflu"
In which Kanye makes it clear that 1.) he's been in love with Kim since the Kris Humphries era, and 2.) he totally could have had his BFF
Jay Z
(and NBA team owner) drop Kris from the Nets team if he'd really wanted to be petty:
And I'll admit, I had fell in love with KimAround the same time she had fell in love with himWell that's cool, baby girl, do ya thangLucky I ain't had Jay drop him from the team
"Awesome"
Things got adorably cheesy at the 2013 Met Gala when Kanye took the stage and sang this little diddy to a very pregnant Kim. For those people who think Kanye isn't the sweetest, most supportive boyfriend in the world, I give you this:
People trying to hate on you At least you know that's nothing new Stop everything you're doing now Cause baby, you're awesome So awesome
I don't care who you are, everyone wants someone to get on stage and recite these lyrics for and to them.
Everyone
.
"Bound 2"
Probably
the most unforgettable music video ever
(and not... in a good way), the lyrics and production on
Bound 2
are so great that we're willing to forgive Yeezy for the momentary lapse in sanity that he surely suffered when creating this video. There was also
that epic performance with The Roots
, which included the Ray J diss heard 'round the world. It's hard to pick the best part of
Bound 2
, but here are some crowd favorites:
Close your eyes and let the word paint a thousand picturesOne good girl is worth a thousand bitches
Again, not a message we hear in the average rap song. And then there's this part:
Hey, you remember where we first met?Okay, I don't remember where we first metBut hey, admittin' is the first stepAnd hey, you know ain't nobody perfect
Guys and gals — we all need to be more honest about things. If Kanye can admit that he doesn't even remember where he met the woman he'll be spending the rest of his life with, you can admit that you drank 99 percent of the remaining orange juice and left that lost drop in there... like a total douche. Ain't nobody perfect, and true love conquers all.
"Knock You Down" (Keri Hilson)
Yeezy teamed up with
Keri Hilson
and Ne-Yo for this little jam, and took a moment lament the fact that someone like Kim would never date a silly little rapper like him. She'd been with NFL player
Reggie Bush
for a while, so Kanye made himself the "class clown" to "the head of the football team," with Kim as the "cheerleader" of his dreams. Adorable:
You was always the cheerleader of my dreamThat seem to only date the head of football teamsAnd I was the class clown that always kept you laughingWe were never meant to be baby we just happened
But not all of Kanye's lyrics are... sweet...
"Drunk In Love" Remix
Poor Bruce Jenner. He must have had a heart attack when he heard these lyrics:
Woo! You will never need another loverWoo! Cause you a MILF and I'm a motherf**kerTold you give the drummer some, now the drummer c**min'I'm pa rum pa pum pumin' all on your stomach
And then there was this:
After all the money you earned, still show daddy what you learnedThat cowgirl, you reverse that cowgirlYou reverse, you reverse, and I impregnated your mouth, girl, oooohThat's when I knew you could be my spouse, girl
Let's hope baby Nori never, ever, ever hears this song. Ever.