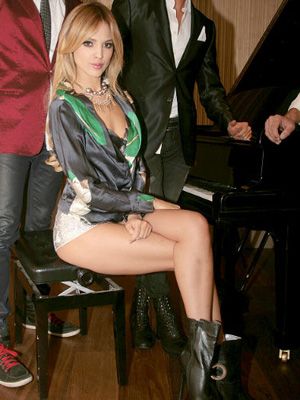 It's been a minute since we've heard anything about
Liam Hemsworth
and his part-time girlfriend
Eiza González
.
We thought they were just hooking up, but apparently they are sort of seeing each other.
A source told
OK!
that "Liam is totally smitten with Eiza. They're spending as much time together as they can and are on the phone non-stop when they're apart."
Ew, what? Sorry, we're just so team
Miley Cyrus
, this is a struggle to deal with.
Liam and Eiza have reportedly been hanging out in NY when Liam isn't filming in Atlanta. Someone saw them going into his hotel and told the mag.
"They were holding hands and walking into the hotel. He whispered something in her ear, and she laughed. It was cute," an onlooker observed.
Apparently he thinks Eiza is a true "adult," which is a far cry "from Miley's mind games and juvenile behavior."
It probably doesn't hurt that Eiza is like, mind-numbingly gorgeous.
"[Liam] thinks Eiza's the sexiest woman he's ever laid eyes on," the source said. "Who can blame him? He's got girls throwing themselves at him, but she's at the very top of his list."
OMG, so GLAD to hear she's at the TOP of his list. She's not the only sexy woman he's seeing, but she's at the top. What a victory, Eiza. Pat yourself on the back. Yeesh.