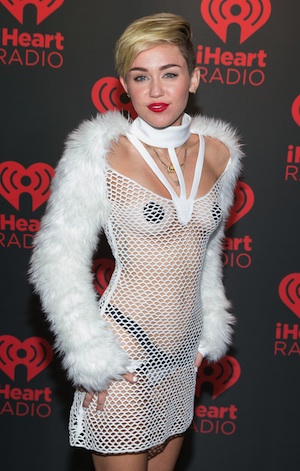 Miley Cyrus might actually just be a wreck (minus the ball).
Maybe Miley's breakup has caused her to crack a little bit, because her outfit at the iHeartRadio Music Festival is just one pair of stripper heels away from a full-fledged meltdown.
Miley is giving us all sorts of
Lil Kim
at the Grammys meets
Cher
anytime-in-the-'80s in this mesh dress with black pasties, fur shawl, and stripper panties.
Miley performed her two singles "We Can't Stop" and "Wrecking Ball" and according to fans at the concert, she was crying during some parts of "Wrecking Ball."
Miley is going through it, you guys. Let's hope this too shall pass.